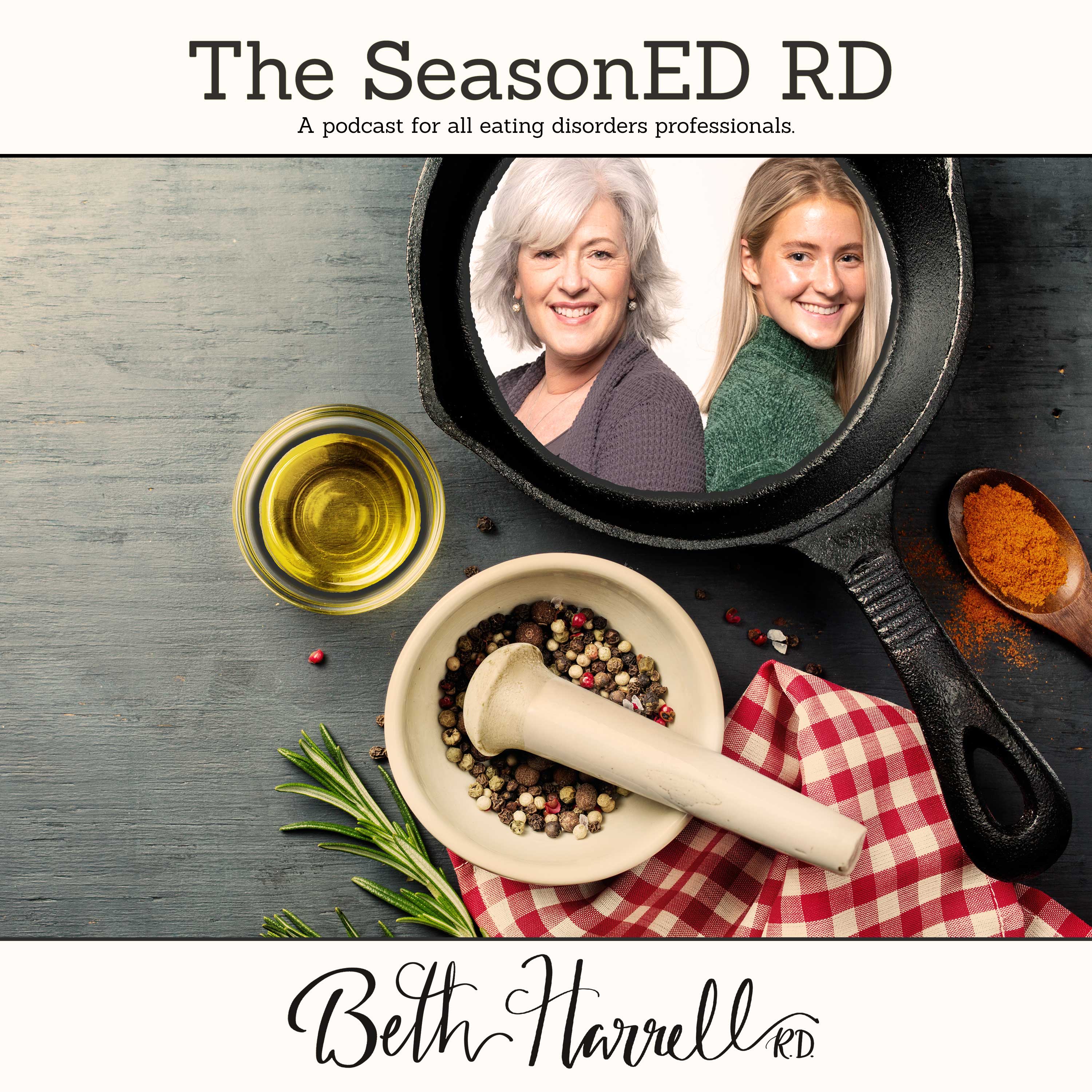 The SeasonED RD is a podcast for all professionals in the field of eating disorders who want a "one-stop-shop" for the resources, the people, and the connections that matter.  Whether you are newly seasoned (intern, student, or newer professional in the field) or well seasoned, this podcast is for you. Let's learn together!
Episodes
Saturday Apr 29, 2023
Saturday Apr 29, 2023
Dr. Kamila Cass, PhD, CEDS-S, (she/her/hers) 
Dr. Cass tells us that our patients can FEEL when we believe them and that they need to know, so strongly, that they have a right to treatment no matter how many times they need it. 
They have a right to be wrestling with their eating disordered cognitions- it's not their fault that these thoughts were there it's happening to them they didn't ask for them.  
Mechanisms of ARFID (Avoidant Restrictive Food Intake Disorder) 
Fearing consequences of eating (how food will impact the way their body feels, vomiting, choking, how they will feel in their body)
Lack of interest in eating – COVID and disruptions of waking and sleeping patterns
Malnourished due to sensory sensitivity – unpleasant, narrow variety of food choices
They usually WANT to gain weight.  Let's create a home where they feel safe and very believed.  The full team is used: OT, PT, and RD in service of treating them where they need it most. 
EDE-Q doesn't work for ARFID 
Why don't clinicians BELIEVE what's happening?  
What's happening in the brain? 
ARFID – goes back to childhood, maybe infancy, maybe had a hard time eating back then. 
Check out this episode of the SesaonED RD with Dr. Jenny Thomas on ARFID.
Dr. Cass' Seasonings: 
*Dr. Bulik's research – Eating Disorders as a psycho-metabolic condition.  Dr. Bulik's episode.
*This is not just in the head, we need to believe and UNSHAME having a mental illness 
*Patients can open up and do the very hard work when they are completely believed. 
*Eating Disorders have little to do with poor parenting and everything to do with providing support and being an agent of change. 
*Family-based treatment 
*Have hope and with the same amount of courage our clients have,  
*People do get better, leaning into the support of the community. 
*Supervision! 
Bio: 
Dr. Kamila Cass, PhD, CEDS-S, completed her master's and Ph.D. in clinical psychology at the University of Missouri-Columbia and her predoctoral psychology residency at the University of Colorado at Boulder.  Dr. Cass has worked with eating disorders for many years, in several settings, including private practice, hospital programs, community clinics, and college counseling centers.  Dr. Cass has also worked on a bariatric surgical team, designing the pre-surgical psychological evaluation process, and providing support to patients undergoing bariatric surgery. Dr. Cass has worked as a psychologist at the ACUTE Center for Eating Disorders and Severe Malnutrition for the past four years and is the lead developer of the ARFID Track, overseeing a multidisciplinary team of providers dedicated to providing individualized, evidence-based treatment to patients with ARFID.  Dr. Cass is an Assistant Professor at the University of Colorado School of Medicine and is active in research and publishing and has been a featured speaker at national and international conferences for eating disorders.

~~~~~~~~~~~~~~~~~~~~~~~~~~~~~~~~~~~
With your host Beth Harrell