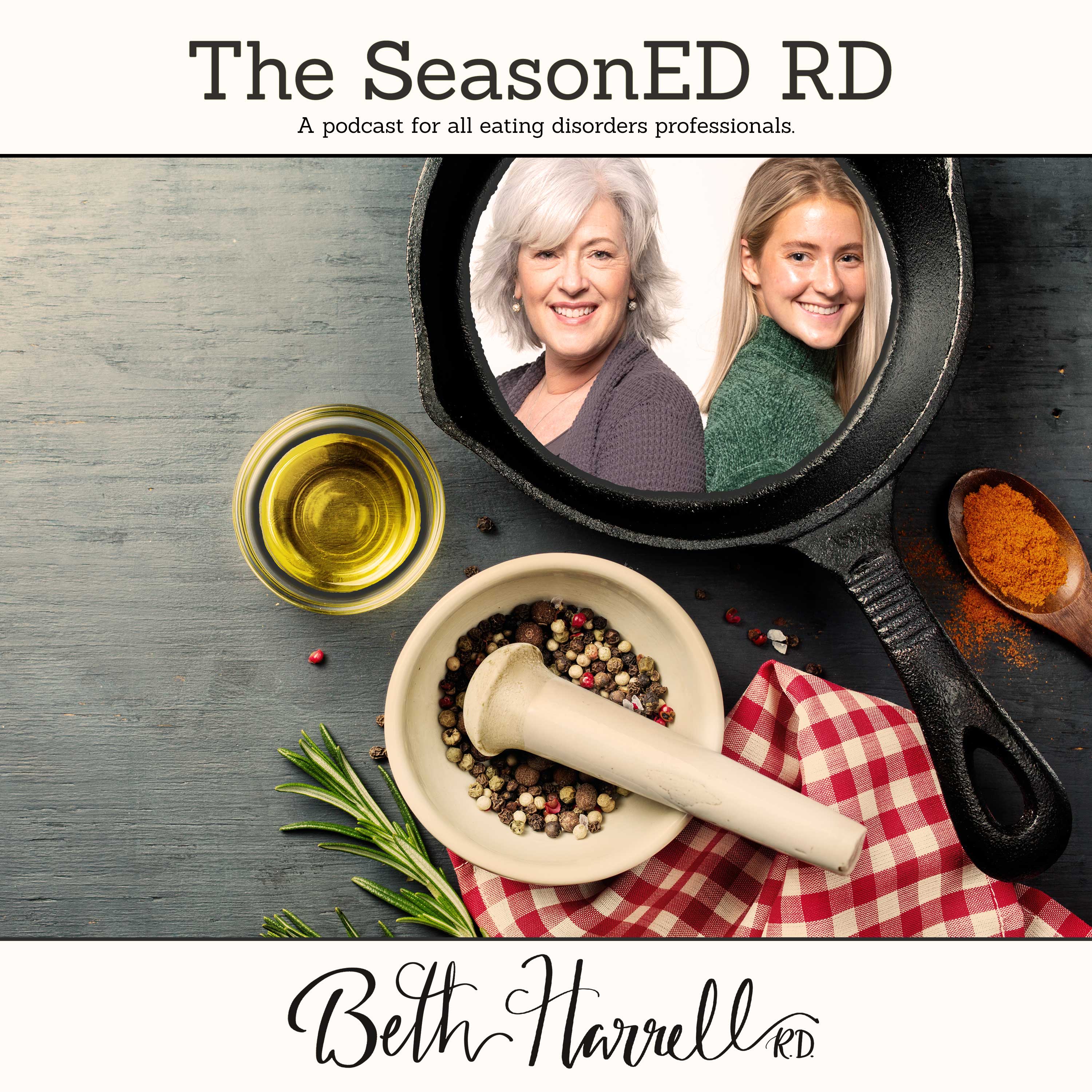 The SeasonED RD is a podcast for all professionals in the field of eating disorders who want a "one-stop-shop" for the resources, the people, and the connections that matter.  Whether you are newly seasoned (intern, student, or newer professional in the field) or well seasoned, this podcast is for you. Let's learn together!
Episodes
Friday Apr 07, 2023
Friday Apr 07, 2023
What is Avoidant Restrictive Food Intake Disorder?
Restriction without body image
What would cause someone to restrict food if it wasn't to change the body?
Phenotypes described -  Three types can occur in same individual
Sensory sensitivity presentation – textures
Trauma – vomiting, choking, pain in belly
Lack of Interest – "I forget to eat", don't get hungry and get full quickly
(ARFID Plus)
What works? - Exposure therapy, Cooking therapy, sometimes speech therapy, eating at regular times, the body will come to expect that.
Division of responsibility doesn't match this diagnosis.  Enough preferred foods first so enough calories, then slowly introduce variety.
CBT-AR – patients will report hunger simply from the act of eating.  Develop a cadence of appetite.
What does CCK have to do with this? 
NIMH study –Adults with ARFID  2022-2027
Dr. Thomas' Seasonings:
Organizations
Books about ARFID
Assessments for ARFID
Opportunities for participation in ARFID research studies
Bio:
Dr. Jennifer Thomas is the Co-director of the Eating Disorders Clinical and Research Program at Massachusetts General Hospital, and an Associate Professor of Psychology in the Department of Psychiatry at Harvard Medical School. Dr. Thomas's research focuses on avoidant/restrictive food intake disorder and other atypical eating disorders, as described in her books Almost Anorexic: Is My (or My Loved One's) Relationship with Food a Problem?; Cognitive-Behavioral Therapy for Avoidant/Restrictive Food Intake Disorder: Children, Adolescents, and Adults; and The Picky Eater's Recovery Book: Overcoming Avoidant/Restrictive Food Intake Disorder. She is currently principal investigator on several studies investigating the neurobiology and treatment of avoidant/restrictive food intake disorder, funded by the U.S. National Institute of Mental Health and private foundations. She is the author or co-author of more than 160 scientific publications. She is the current President of the Academy for Eating Disorders and recently completed a 5-year term as Associate Editor for the International Journal of Eating Disorders.
With your host Beth Harrell