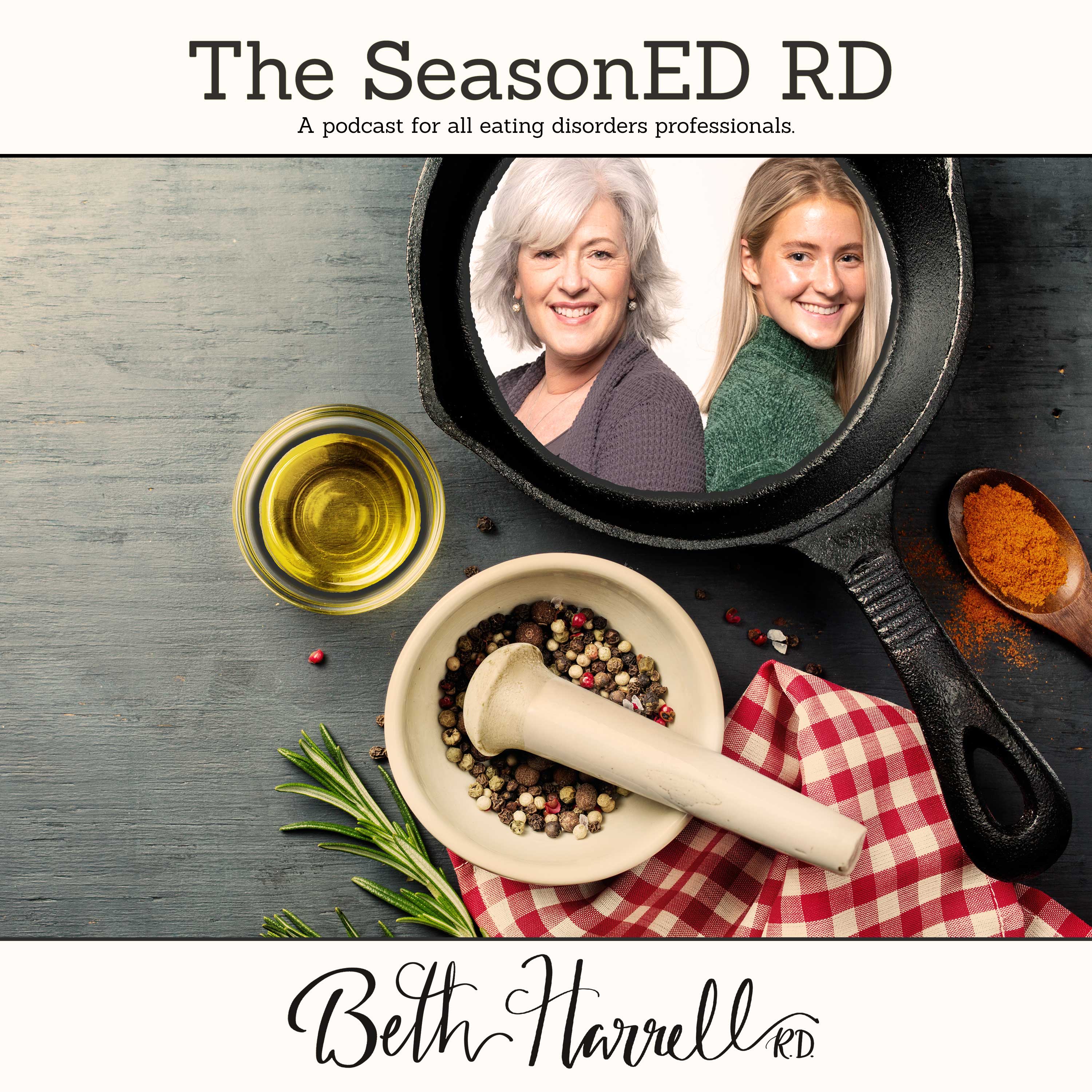 The SeasonED RD is a podcast for all professionals in the field of eating disorders who want a "one-stop-shop" for the resources, the people, and the connections that matter.  Whether you are newly seasoned (intern, student, or newer professional in the field) or well seasoned, this podcast is for you. Let's learn together!
Episodes
Friday Nov 04, 2022
Friday Nov 04, 2022
Beth Hartman McGilley, Ph.D., FAED, CEDS-S
The Relationship Is The Secret Sauce 
How feeling fat, dumb and ugly can teach us 
Find a supervisor, find a therapist who will help you stay attuned to the relationship in which that healing is happening.  
Insight isn't curative but it's essential 
Saw myself in the textbook - At least 30% of us in the field with lived experience with ED- it was RADICAL to talk about it 
How privilege informs our experience, understanding intersectionality, how it impacts us as professionals  
"I marvel at what younger therapists are learning" 
Recognize our limitation – it's ok to have 2 therapists or transfer to those who specialize in the work most needed. 
Beth's Seasonings: 
Understand issues of power and shame 
Margo Maine, PhD – Body Wars, Pursuing Perfection, Father Hunger 
Killing Us Softly – Jean Kilbourne 
Bio, Psycho, Social and SPIRITUAL 
Dan Siegel and neurobiology 
Polyvagal theory 
Dr. Michael Barrett 
"If I had to impart any wisdom to younger people in the field, what I see missing in the training is learning how to source the therapeutic relationship in the service of healing" 
Bio: 
Beth Hartman McGilley, Ph.D., FAED, CEDS-S is a psychologist in private practice, specializing in the treatment of eating disorders, athletes, trauma, and grief. Her practice is informed by feminist, HAES, and social justice perspectives. A Fellow of the AED, and a Certified Eating Disorders Specialist/Supervisor, she has practiced psychotherapy for over 35 years, in addition to writing, lecturing, and supervising. She is the co-editor of the book: Treatment of Eating Disorders: Bridging the Research/Practice Gap. 
With your host Beth Harrell