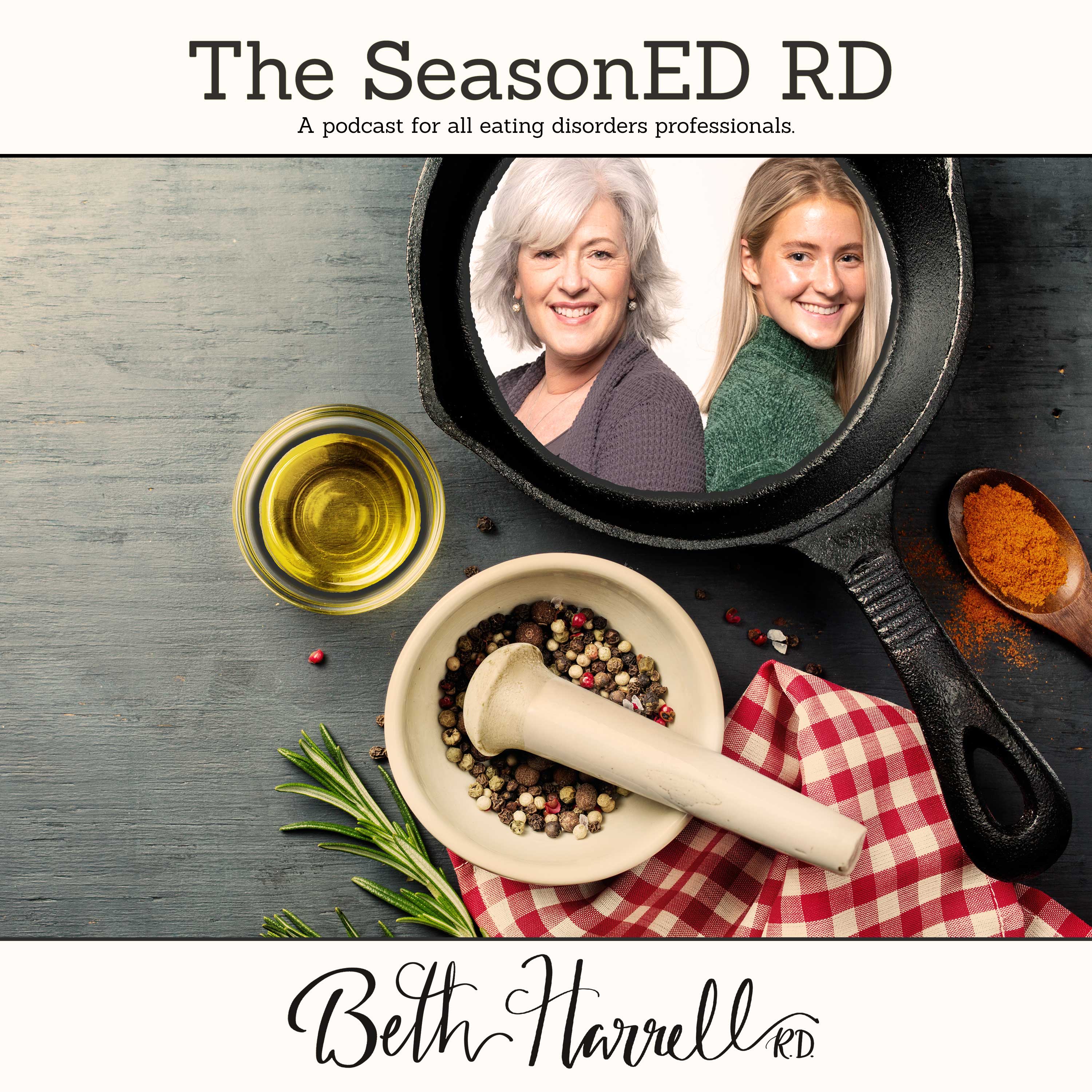 The SeasonED RD is a podcast for all professionals in the field of eating disorders who want a "one-stop-shop" for the resources, the people, and the connections that matter.  Whether you are newly seasoned (intern, student, or newer professional in the field) or well seasoned, this podcast is for you. Let's learn together!
Episodes
Friday Jul 02, 2021
Friday Jul 02, 2021
Nuggets from Dr. Laging:
*What was super scary as a new physical therapist working with eating disorders
*How to use touch medically and therapeutically 
*What is a movement professional and what is intuitive movement
*What makes exercise or movement dysfunctional
*What does a common ED symptom like constipation have to do with physical therapy
*https://www.safeexerciseateverystage.com/
Michelle Laging PT, DPT, CPPC, CEDS
A Doctorate of Physical Therapy, Michelle is one of few eating disorder-sensitive and informed physical therapists.  She began her career as an inpatient physical therapist at Denver Health in 2008 and began to explore the integration of physical therapy services to individuals admitted to the ACUTE Center for Eating Disorders at Denver Health.  It was here that Michelle cultivated her passion to provide excellent physical therapy care to this patient population by coordinating a mobility program and providing individual patient care for approximately 11 years.  Sensing the need for similar services in the outpatient world, Michelle created her private practice, Movement is Medicine Physical Therapy & Wellness, in January of 2019.  Here she blends her background as a yoga and fitness instructor with her physical therapy skills for rehabilitation, injury prevention, and education to encourage clients to participate in movement and "healthy" reconnection with the body. 
Michelle has been published in The Journal of Acute Care Physical Therapy and was a contributing text editor for Pathology: Implications for The Physical Therapist.  She is a member of iaedp™, an inconsistent member of the APTA (American Physical Therapy Association), and a member of the Global Pelvic Health Alliance (GPHAM).  She regularly lectures to the physical therapy students at the University of Colorado Anschutz Medical Campus to provide education on eating disorders and the importance of physical therapy care. She has completed training to become a pelvic health physical therapist and completed her certification as a pre and postnatal coach through Girls Gone Strong.  Throughout her career, Michelle has advocated for physical therapy to be a recognized profession in the field of eating disorders and, in February 2020, became the first physical therapist to become a Certified Eating Disorders Specialist (CEDS) through iaedp™… and hopeful to be among many other physical therapists to hold this designation soon!
Michelle recognizes the intersection between dysfunctional exercise, disordered eating, body dysmorphia, and decreased connectedness with the body that can be common within all of us.  She continues to learn about pelvic health and is currently interested in training to become a Somatic Experiencing Practitioner through the great work of Peter Levine.  In her free time, she enjoys reading and learning ALL the things, participating in classes at her local gym, hiking 14'ers, cycling, and living life with her husband and 2 young kids.
Contact Michelle:
drmichellept@movement-medicine.com
https://www.movementismedicine.com
With your host Beth Harrell