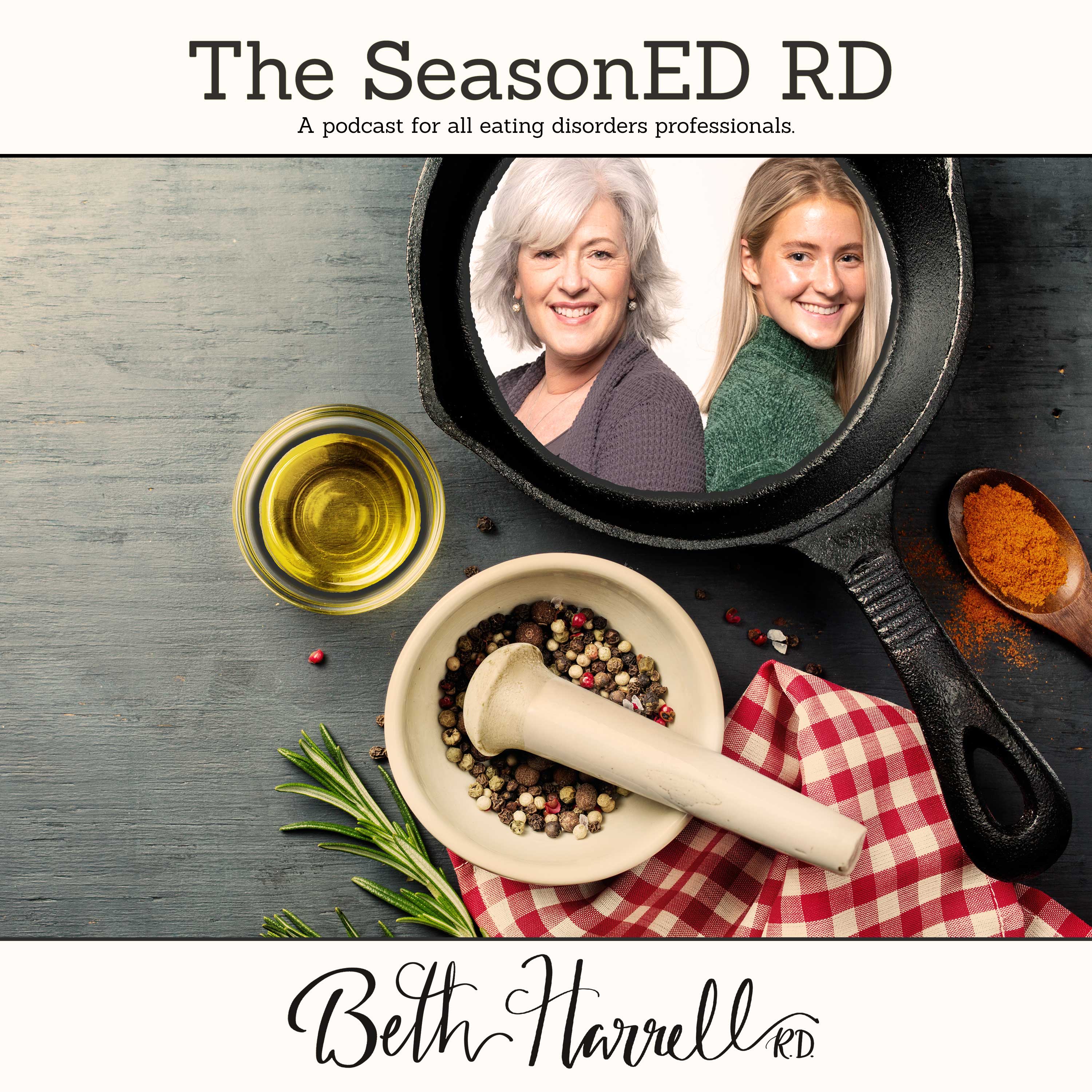 The SeasonED RD is a podcast for all professionals in the field of eating disorders who want a "one-stop-shop" for the resources, the people, and the connections that matter.  Whether you are newly seasoned (intern, student, or newer professional in the field) or well seasoned, this podcast is for you. Let's learn together!
Episodes
Friday Nov 25, 2022
Friday Nov 25, 2022
Connecting with others who are also always learning is a key 
Gender identity and body image in eating disorders 
Who Is The Expert? As a cis-gender person, we can't know it in this way 
Trans and gender non-conforming clients are at much higher risk for eating disorders and treatment options have been limited 
Hold client as expert but not in the role of educating others 
Body neutrality vs body acceptance or body positivity  
This is the vehicle you have, 
Language matters  
Leaning into the power dynamic. 
Love protects - My kiddo is the expert of himself. 
Cait's Seasonings: 
Diversity with the theme of Love as protector 
Erin Harrop 
Carolyn Becker research – "the real intervention is to donate to the food pantry" 
Diversity Dietetics 
Social Justice Issues, Health at Every Size 
Keep training, stay interested – RO-DBT, IFS 
Bio: 
Cait Scafati (she/her) is a licensed clinical social worker with a background in art therapy focused on clients with co-occurring trauma and eating disorders. She began her work in the eating disorders field more than 15 years ago working with the National Eating Disorders Association. Since that time she has had the privilege of working with hundreds of clients and their families on their journey to recovery at all levels of care (outpatient, IOP, PHP, residential, and inpatient). Cait is passionate about creating an affirming, safe, creative space for therapy through the lens of Health at Every Size®, Intuitive Eating, trauma-informed, and social justice frameworks. With many years of experience in admissions, Cait is passionate about bringing hope to her clients and believes in the potential for full recovery. She has training in CBT, DBT, and trauma in addition to her background in eating disorders. Cait is currently co-chair of the Professionals in Recovery special interest group through the Academy for Eating Disorders and has presented at multiple national conferences and facilitated workshops for parents and loved ones. 
I have started and am facilitating a group at Within for ED professionals who are struggling in their recovery. I am very excited that we are able to offer this - to my knowledge it's the first of it's kind! I would LOVE it if you would highlight that in the intro. I don't have a link yet, but it will be nested in our PHP/IOP. I would encourage providers to reach out to us via our website if they would like a confidential assessment. 
With your host Beth Harrell