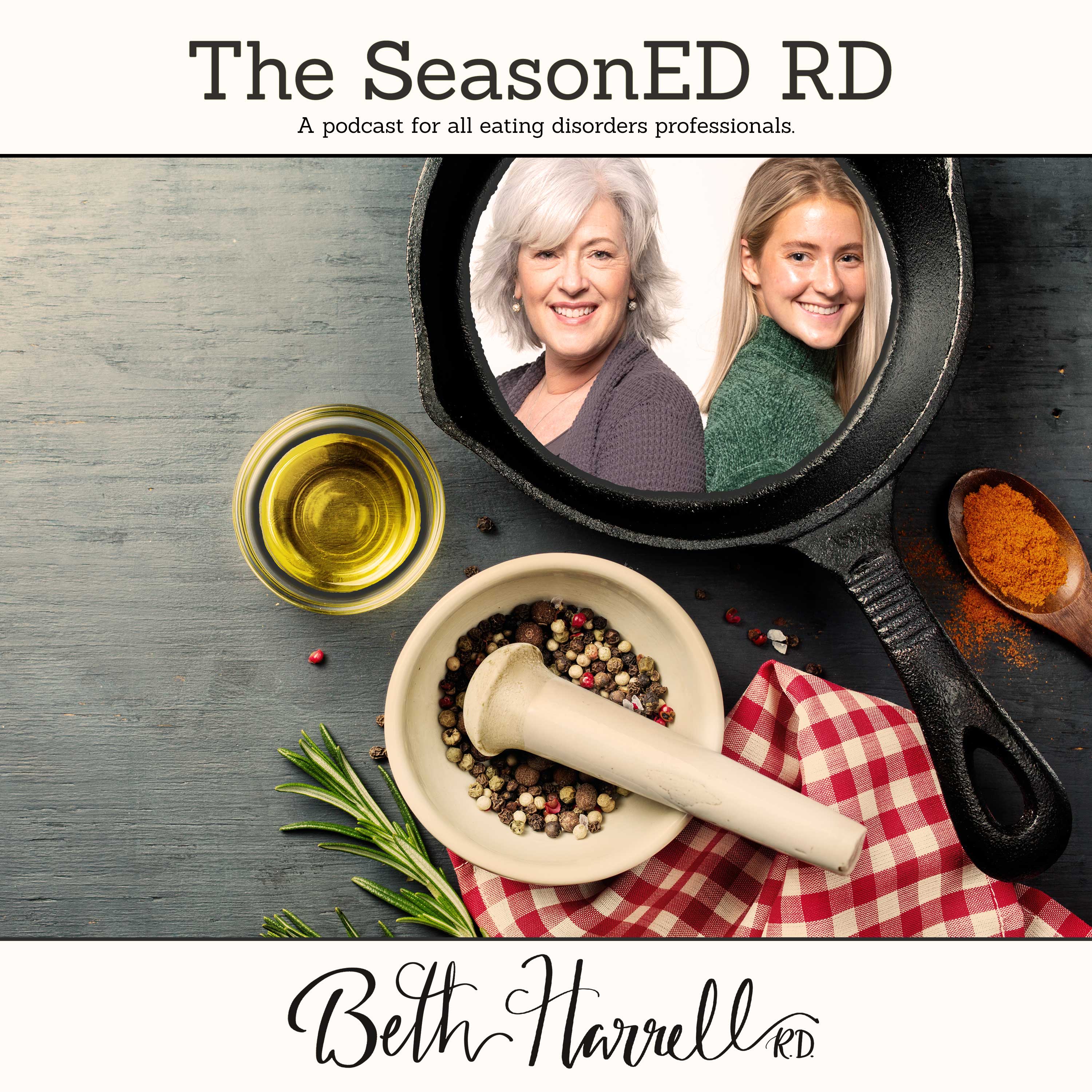 The SeasonED RD is a podcast for all professionals in the field of eating disorders who want a "one-stop-shop" for the resources, the people, and the connections that matter.  Whether you are newly seasoned (intern, student, or newer professional in the field) or well seasoned, this podcast is for you. Let's learn together!
Episodes
Friday Mar 17, 2023
Friday Mar 17, 2023
"I wish I would have known there was another way to help people heal"
Her nuggets for us as professionals today include:
How she knew she had eating problems but was missed by a therapist who said she was ok because she wasn't throwing up and "looked ok"

How she wants everyone to know that restrictive eating to lose weight can cause infertility

How important it is to surround ourselves regularly with other professionals 

Addressing the criticism that Intuitive Eating (IE) can't be used for eating disorders, (see also

Christy Harrison's Food Psych podcast recording with Elyse

 about using IE for eating disorders).
Finally, her new journal is coming out, with a book signing THIS weekend if you are near LA or looking for a good reason to visit, and although this journal and the IE program is for consumers, this is a call to all professionals to do our own work through practicing IE in our own lives.
Book signing - Saturday, June 12th at 12:30 The link to sign up is:   https://bit.ly/3wTQgv1
ASDAH Health Sheets - https://haeshealthsheets.com/the-health-sheet-library/
Elyse Resch, MS, RDN, CEDRD-S, Fiaedp, FADA, FAND, is a nutrition therapist in private practice in Beverly Hills, California, with thirty-nine years of experience, specializing in eating disorders, Intuitive Eating, and Health at Every Size. She is the co-author of Intuitive Eating, now in its 4th edition, the Intuitive Eating Workbook, and The Intuitive Eating Card Deck—50 Bite-Sized Ways to Make Peace with Food (upcoming, 2021). Elyse is also the author of The Intuitive Eating Workbook for Teens and The Intuitive Eating Journal—Your Guided Journey for Nourishing a Healthy Relationship with Food (upcoming, 2021), and a chapter contributor to The Handbook of Positive Body Image and Embodiment. She has published journal articles, print articles, and blog posts. Elyse does regular speaking engagements, podcasts, and extensive media interviews. Her work has been profiled on NPR, CNN, KABC, NBC, KTTV, Los Angeles Times, AP Press, KFI Radio, The New York Times, USA Today, and The Huffington Post, among others. Elyse is nationally known for her work in helping patients break free from diet culture through the Intuitive Eating process. Her philosophy embraces the goal of developing body liberation, with the belief that all bodies deserve dignity, and reconnecting with one's internal wisdom about eating. She supervises and trains health professionals, is a Certified Eating Disorder Registered Dietitian and Supervisor, a Fellow of the International Association of Eating Disorder Professionals, and a Fellow of the Academy of Nutrition and Dietetics.
With your host Beth Harrell