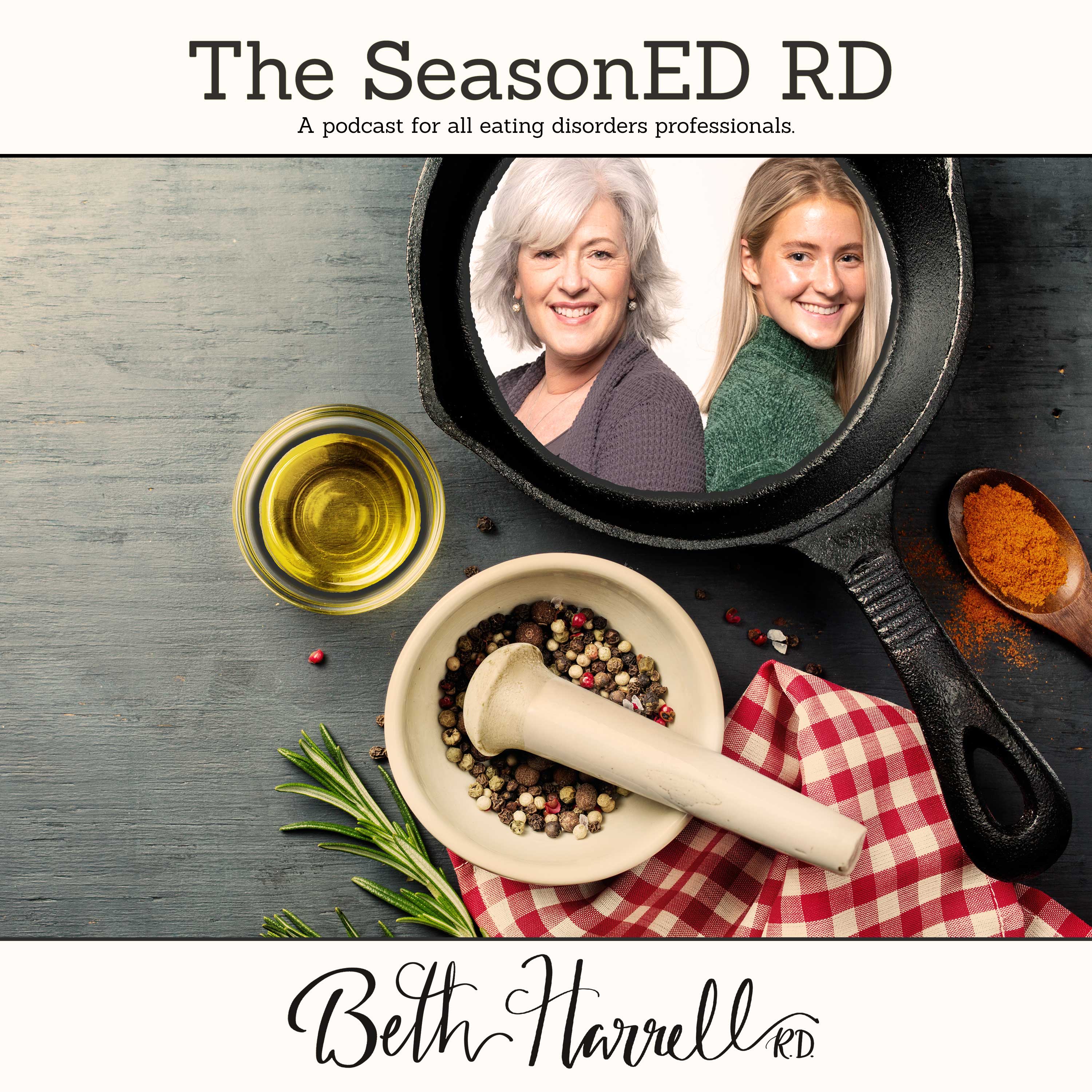 The SeasonED RD is a podcast for all professionals in the field of eating disorders who want a "one-stop-shop" for the resources, the people, and the connections that matter.  Whether you are newly seasoned (intern, student, or newer professional in the field) or well seasoned, this podcast is for you. Let's learn together!
Episodes
Friday Nov 12, 2021
Friday Nov 12, 2021
Letter -Dear Doctor, don't talk to my child about weight  
Why can't this doctor use the "O" word 
Ellyn Satter's work, "Child of Mine" 
Doc-talk during a pandemic is about weight gain, but missing the talk about the massive increase in eating disorders and lack of hospital access 
Trauma-informed care training – the bottom-up, nervous system and how trauma resides in the body. 
Anna Lutz, RD, CEDRD-S 
Anna Lutz is a Registered Dietitian with Lutz, Alexander & Associates Nutrition Therapy in Raleigh, NC. She specializes in eating disorders and pediatric/family nutrition and provides clinical supervision to other dietitians. Anna received her Bachelor of Science degree in Psychology from Duke University and Master of Public Health in Nutrition from The University of North Carolina at Chapel Hill. She is a Certified Eating Disorders Registered Dietitian (CEDRD) and an Approved Supervisor, both through the International Association of Eating Disorder Professionals (iaedp). Anna previously worked at Children's National Medical Center in Washington, DC, and Duke University Student Health, treating individuals with eating disorders. She has completed extensive training through the Embodied Recovery Institute and strives to provide her clients trauma and somatically informed care. Anna is a national speaker and delivers workshops and presentations on eating disorders, weight-inclusive healthcare, and childhood feeding. She also writes and talks about nutrition and family feeding, free of diet culture, on her blog, Sunny Side Up Nutrition, and her podcast, Sunny Side Up Nutrition Podcast. 
Katja Rowell M.D
Katja Rowell M.D. is a family doctor, author, and responsive childhood feeding specialist. Described as "academic, but warm and down to earth," she is a popular speaker and has appeared in numerous publications. Katja has developed an expertise in anxious and avoidant eating (including ARFID), food preoccupation, and supporting foster and adopted children. Katja is a co-founder and part of a multidisciplinary team behind ResponsiveFeedingPro.com, a digital online learning platform for professionals working with children and families around food. She's also on the SPOON adoption nutrition advisory board. Her books include: Helping Your Child with Extremely Picky Eating: A Step-by-Step Guide to Overcoming Selective Eating, Food Aversion, and Feeding Disorders, Love Me, Feed Me, and Conquer Picky Eating: a Workbook for Teens and Adults. Learn more about Katja at The Feeding Doctor.