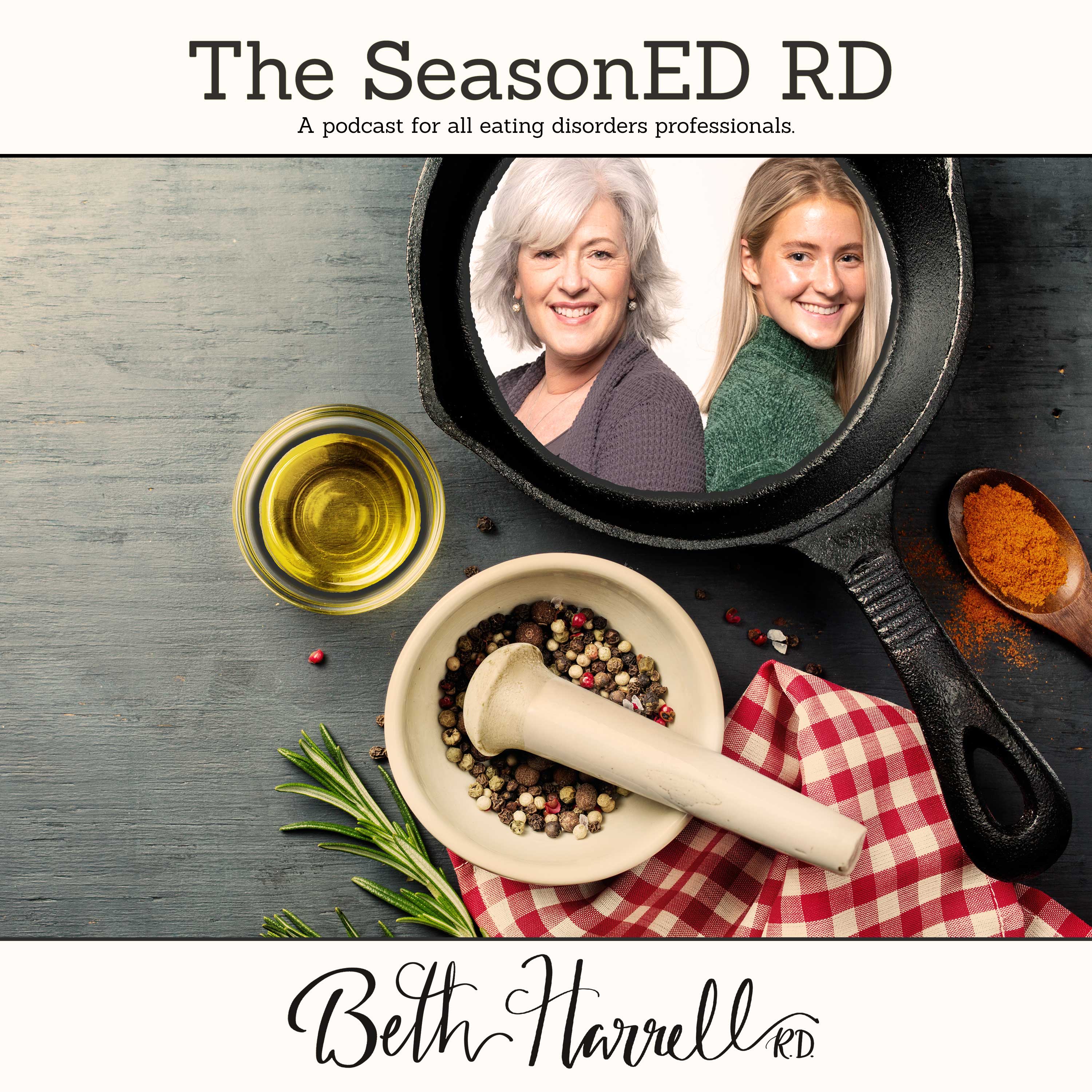 The SeasonED RD is a podcast for all professionals in the field of eating disorders who want a "one-stop-shop" for the resources, the people, and the connections that matter.  Whether you are newly seasoned (intern, student, or newer professional in the field) or well seasoned, this podcast is for you. Let's learn together!
Episodes
Friday Dec 09, 2022
Friday Dec 09, 2022
Janice Baker MBA RDN CDCES CNSC BC-ADM
From Janice Baker's bookshelf to our ears, Janice is one of the greatest teachers for me, especially when it comes to diabetes care and the intersections of diet culture, weight focus and eating disorders. 
Weight-centric care is "baked into" our trainings, but is getting better. 
What do we do when someone needs to pay attention to carbs and dosing insulin, at times it feels disorders to be rigid? 
During her formal education, she remembers it was a beautiful time with cultural foods and dairy and full fat foods without fear. 
Then the fat free era resulted in foods that tasted like pencil erasers - Avocados were called green fat bombs 
Pop culture of continuous glucose monitoring (CGM's) in gyms, measuring insulin, waist trimmers, GLP1 receptor agonist, decrease appetite, slows down gastric motility, being marketed as alternative to bariatric surgery. 
Newest medical guides - No resource is perfect, parts I want to question more about where the ideas came from.  Size acceptance and definition of health. 
Janice's Seasonings: 
*Full bookshelf, (and reading them all) 
*Learning about bio-psycho-social model 
*sea turtles are her love
Bio: 
Janice Baker MBA RDN CDCES CNSC BC-ADM 
Registered Dietitian/Nutritionist Certified Diabetes Care and Education Specialist 
Certified Nutrition Support Clinician 
Board Certified – Advanced Diabetes Management 
619-742-0145 jbaker9@gmail.com 
An alumnus of California Polytechnic State University in San Luis Obispo, Janice completed her post graduate dietetic internship at Good Samaritan Hospital in Cincinnati, Ohio and a master's degree in business administration while working toward additional certifications in diabetes management and nutrition support. 
Janice started practice in 1983 as a clinical/acute care dietitian and assistant manager of nutrition services at Palomar Hospital in Poway, California before joining Arch Medical Group in 1994 to provide nutrition and disease management services. She has worked with Alsana, Montecatini and Mandometer clinics for eating disorder treatment, and home health, orthopedic and other preoperative surgery education for Palomar Health in Poway and Escondido. She also has a private practice and consults with a variety of corporations. 
Janice volunteers with Taking Control of Your Diabetes and other organizations to promote diabetes prevention, education and management. Janice has also worked with public schools and universities to educate students and faculty on health and nutrition issues. 
With your host Beth Harrell